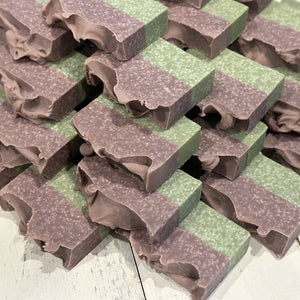 Lavender Eucalyptus
Key Ingredients :
Olea Europaea (Olive) Oil, Aqua, Cocos Nucifera (Coconut) Oil, Butyrospermum Parkii (Shea Butter) Vitis Vinifera (Grape) Seed Oil, Lavender Extract, Vegetable Oil (Lavender Butter) Sodium Hydroxide, Kaolin, Parfum (Lavender & Eucalyptus Essential Oils) Purple Brazilian Clay, French Green Clay, Sea Salt Minerals 
 * sodium hydroxide is used to saponify the oils; sodium hydroxide is not present in the finished product *
100% Plant Based
 *All of our soaps are handcrafted in small batches in Whitby, Ontario. There may be a slight variation in colour and cut, as they are individually processed by hand. 
*In order to extend the life of your bar as long as possible, it is highly recommended to keep your bar dry in between uses. A well draining soapdish works best.