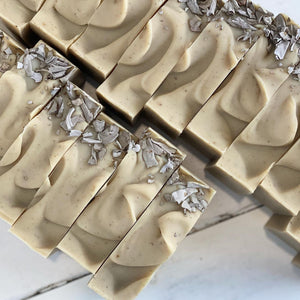 Go Smudge Yourself
We can smudge our spaces, our homes and our bodies with the smoke of a variety of botanicals. Now you can smudge in the shower! These sacred smudge bars can be used whenever you need to cleanse the body of negative energy - It's a great and convenient way to help restore positive vibes inside & out. 
Key Ingredients :
Organic coconut oil, Olive oil, Avocado oil, Organic unrefined shea butter, Kokum butter, Distilled water, Sodium hydroxide, Sage, Palo Santo & Cedarwood essential oils, Palo Santo powder, Organic white sage powder & Cedar tip powder.  
 * sodium hydroxide is used to saponify the oils; sodium hydroxide is not present in the finished product *
100% Plant Based
Tested On People Not Animals
*All of our soaps are handcrafted in small batches in Whitby, Ontario. There may be a slight variation in colour and cut, as they are individually processed by hand.
*In order to extend the life of your bar as long as possible, it is highly recommended to keep your bar dry in between uses. A well draining soapdish works best.